Change or refine your search
All prices are indicative until confirmed at booking confirmation
Tahiti, Bora Bora & Hawaii - 20 Night Fly, Stay, Cruise Package (CEL8979)
Solstice | Sydney to Honolulu
Tour Departure: Apr 15, 2021
---
| | |
| --- | --- |
| | Cruise |
| | |
| --- | --- |
| | Flights |
| | |
| --- | --- |
| | Stay |
| | |
| --- | --- |
| | Transfers |
| | |
| --- | --- |
| | Cruiseco Recommends |
---
---
Highlights
Set sail aboard Solstice as she meanders through the Pacific from one tropical paradise to another!
---
Inclusions:
20 Night Package Includes:
18 night cruise from Sydney to Honolulu aboard Solstice
All main meals and entertainment on board (excludes specialty restaurants)
2 night post-cruise stay in an Ocean View room at the Hilton Waikiki Beach, breakfast included
Economy class airfare from Honolulu to Australia
Seat in Coach transfers between port, hotel & airport in Honolulu (upgrade to private car transfers available)
Port charges, government fees & air taxes
---
Itinerary
Day 1:
Sydney - Australia
Thu 15 Apr 2021
Depart 6:30 PM
Day 4:
Bay Of Islands - New Zealand
Sun 18 Apr 2021
10:00 AM to 6:00 PM
Day 5:
Auckland - New Zealand
Mon 19 Apr 2021
7:00 AM to 4:00 PM
Day 6:
International Dateline
Day 9:
Moorea - French Polynesia
Fri 23 Apr 2021
7:00 AM to 6:00 PM
Day 9:
Papeete - Tahiti - Fr.Polynesia
Fri 23 Apr 2021
Arrive 8:00 PM
Day 10:
Papeete - Tahiti - Fr.Polynesia
Sat 24 Apr 2021
Depart 7:00 PM
Day 11:
Bora Bora - French Polynesia
Sun 25 Apr 2021
7:00 AM to 6:00 PM
Day 17:
Hilo - Hawaii
Sat 1 May 2021
7:00 AM to 5:00 PM
Day 18:
Lahaina - Maui - Hawaii
Sun 2 May 2021
7:00 AM to 10:00 PM
Day 19:
Honolulu - Oahu - Hawaii
Mon 3 May 2021
Arrive 7:00 AM
Day 19:
Seat in Coach transfer Port to Hotel and Hotel to Airport
Day 19 - 21:
Hilton Waikiki Beach Hotel
The Hilton Waikiki Beach Hotel combines today's latest technologies such as an electric car charging station with Hawaiian charm. It is situated seconds from the Waikiki Beach and all rooms offer a balcony with a view of the ocean, mountain, or city. Stroll the shops and restaurants at the Waikiki Beach Walk and Luxury Row, see the animals at Honolulu Zoo or learn to surf at Kuhio Beach, all located within walking distance.
Mon 3 May 2021
3:00 PM to 12:00 PM
Day 21:
Hawaiian Airlines to SYD
Depart from Honolulu
To: Sydney
SPECIAL FARE
SALES VALIDITY: Until further notice
FARE TYPE: Economy Class Booking class H
CHANGES/CANCELLATIONS/FEES: For further information refer to the Terms & Conditions located on our website.
CODE: HAHNL0035350ZOW1Y1
Wed 5 May 2021
1:00 AM to 1:00 AM
Ports of Call may vary by departure date and subject to weather and other conditions.
---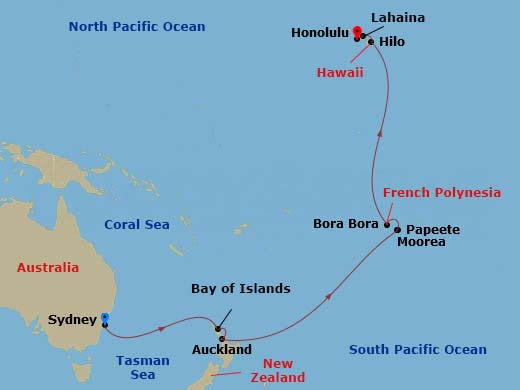 ---
Policies
*Prices are per adult in AUD, based on lead-in twin share accommodation in each of the specified categories. Valid for a limited time only, is capacity controlled, subject to change/availability and can be withdrawn at any time without notice. Does not include any additional accommodation made necessary by flight schedules. Prices are subject to change due to fluctuations in charges, taxes and currency even after the deposit is paid. Agents may charge service fees/or fees for card payments which vary. Cancellation penalties and conditions apply.
---