Change or refine your search
All prices are indicative until confirmed at booking confirmation
Japan & China - 18 Night Fly, Cruise, Stay PACKAGE - Tokyo Return (NCL10587)
Japan & China - 18 Night Fly, Cruise, Stay PACKAGE - Tokyo Return (NCL10587)
Tour Departure: Aug 23, 2020
---
| | |
| --- | --- |
| | Cruise |
| | |
| --- | --- |
| | Flights |
| | |
| --- | --- |
| | Stay |
| | |
| --- | --- |
| | Transfers |
| | |
| --- | --- |
| | Great Value |
---
---
Highlights


Enjoy overnight stays in Tokyo, Kyoto and Beijing.
---
Inclusions:
18 Night Package Includes:
Return Economy Class airfare from Australia to Tokyo
2 nights pre-cruise hotel stay at the Hyatt Regency Tokyo, including breakfast
16 night cruise from Tokyo (Yokohama) return aboard Norwegian Spirit
All main meals and entertainment on-board (excludes specialty restaurants)
Transfers between airport, hotel and port
Port charges, government fees and air taxes
---
Itinerary
Day 1:
Singapore Airlines Ex PER RT TYO
Depart from Perth
To: Tokyo
SPECIAL FARE
SALES VALIDITY: Until further notice
FARE TYPE: Economy Booking Class N
CHANGES/CANCELLATIONS/FEES: For further information refer to the Terms & Conditions located on our website.
CODE: SQASI9122WAUZRT1Y1
Tue 25 Aug 2020
1:00 AM to 1:00 AM
Day 3:
Private car transfer from Narita airport to hotel
Day 2 - 1:
Hyatt Regency Tokyo
Hyatt Regency Tokyo offers upscale international services together with warm and courteous hospitality next to Shinjuku Central Park. Upon their arrival, the guests are welcomed in the atrium lobby with dazzling crystal chandeliers. The rooms are classically decorated in light colours and wooden furniture. The hotel features a fitness centre and an indoor heated swimming pool.
Sun 23 Aug 2020
Depart 3:00 PM
Day 1:
Private transfer from hotel to port Yokohama
Day 1:
Tokyo, Japan
Tue 25 Aug 2020
Depart 7:00 PM
Day 2:
Mount Fuji (Shimizu), Japan
Wed 26 Aug 2020
7:00 AM to 6:00 PM
Day 3:
Nagoya, Japan
Thu 27 Aug 2020
7:00 AM to 6:00 PM
Day 4:
Kyoto (Osaka), Japan
Fri 28 Aug 2020
Arrive 9:00 AM
Day 5:
Kyoto (Osaka), Japan
Sat 29 Aug 2020
Depart 4:00 PM
Day 7:
Shanghai, China
Mon 31 Aug 2020
10:00 AM to 11:59 PM
Day 10:
Beijing (Tianjin), China
Thu 3 Sep 2020
Arrive 8:00 AM
Day 11:
Beijing (Tianjin), China
Fri 4 Sep 2020
Depart 6:00 PM
Day 13:
Nagasaki, Japan
Sun 6 Sep 2020
10:00 AM to 7:00 PM
Day 14:
Kagoshima, Japan
Mon 7 Sep 2020
7:00 AM to 5:00 PM
Day 16:
Tokyo, Japan
Wed 9 Sep 2020
8:00 AM to 7:00 PM
Day 17:
Tokyo (Yokohama), Japan
Thu 10 Sep 2020
Arrive 6:30 AM
Day 17:
Private transfer from port Yokohama to Narita airport
Ports of Call may vary by departure date and subject to weather and other conditions.
---
---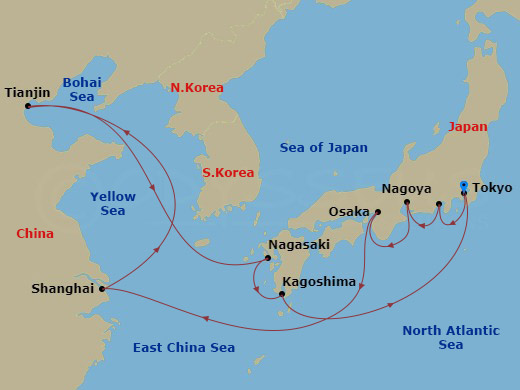 ---
Policies
From Prices are per adult in AUD, based on lead-in twin share accommodation in each of the specified categories. Valid for a limited time only, is capacity controlled, subject to change/availability and can be withdrawn at any time without notice. Does not include any additional accommodation made necessary by schedules. Prices are subject to change due to fluctuations in charges, taxes and currency even after the deposit is paid. Agents may charge service fees and/or fees for card payments which vary. Cancellation penalties and conditions apply.
---