Change or refine your search
All prices are indicative until confirmed at booking confirmation
Discover Asia - 23 Night Fly, Cruise, Stay Cruise PACKAGE (DRE4743)
Dream Explorer - 23 Night Fly, Cruise, Stay Cruise PACKAGE - Shanghai to Sydney
Tour Departure: Oct 6, 2019
---
---
Highlights
23 Night Discover Asia Fly, Stay, Cruise PACKAGE - Shanghai to Sydney
---
Inclusions:
23 Night Package includes;

• One way Economy Class airfare from Australia to Shanghai
• Private transfers between airport, hotel and port in Shanghai
• 2 night pre-cruise stay at Radisson Blu New World Hotel Shanghai, including breakfast
• The best of Shanghai day tour ( 8 hours duration)
• 21 night Shanghai to Sydney voyage aboard Explorer Dream
• Port charges, Handling fees & air tax



---
Itinerary
Day 1 - 2:
Singapore Airlines EX SYD MEL BNE ADL CBR PER
Depart from S
To: Shanghai
SPECIAL FARE
SALES VALIDITY: Until further notice
FARE TYPE: Economy Booking Class Q
CHANGES/CANCELLATIONS/FEES: For further information refer to the Terms & Conditions located on our website.
CODE: SQASI008AU52ZOW8
Thu 3 Oct 2019
1:00 AM to 1:00 AM
Day 2:
Private transfer Airport to Hotel
Day 2 - 4:
Radisson Blu Hotel, Shanghai New World
Situated near the culture and commerce of People's Square, the Radisson Blu Hotel Shanghai New World welcomes you with a blend of modern style and distinctive architecture. Nearby, Nanjing Road offers some of the area's most popular shopping, and attractions like the Bund and Yu Garden are less than 10 minutes from our location. Unwind at Vita Spa before enjoying a delicious meal at one of the three on-site restaurants.
Day 3:
The Best of Shanghai Day Tour
Shanghai is the economic capital of China, the visage of the Oriental Dragon. Shanghai is considered the window on modern China.
Spend a whole day getting to know the wonders of Shanghai: The beautiful Yu Garden and Old Market Town, the spectacular Bund, a choice of either Pearl City or Silk Factory stores, the Nanjing Road shopping experience, the serene Jade Buddha Temple, the vast Shanghai Art Museum, before ending the day in the relaxing Xin Tian Di district.
Day 4:
Private transfer Hotel to port (Wusongkou)
Day 4:
SHANGHAI
Sun 6 Oct 2019
Depart 5:00 PM
Day 6:
HONG KONG
Tue 8 Oct 2019
2:00 PM to 11:59 PM
Day 8:
NHA TRANG
Thu 10 Oct 2019
9:00 AM to 7:00 PM
Day 9:
HO CHI MINH CITY(PHU MY)
Fri 11 Oct 2019
10:00 AM to 10:00 PM
Day 11:
SINGAPORE
Sun 13 Oct 2019
9:00 AM to 7:00 PM
Day 13:
JAKARTA
Tue 15 Oct 2019
7:00 AM to 9:00 PM
Day 15:
Bali (Benoa)
Thu 17 Oct 2019
7:00 AM to 9:00 PM
Day 18:
DARWIN
Sun 20 Oct 2019
7:00 AM to 6:00 PM
Day 21:
CAIRNS
Wed 23 Oct 2019
6:00 AM to 5:00 PM
Day 23:
Gladstone
Fri 25 Oct 2019
7:00 AM to 4:00 PM
Day 25:
SYDNEY
Sun 27 Oct 2019
Arrive 7:00 AM
Ports of Call may vary by departure date and subject to weather and other conditions.
---
---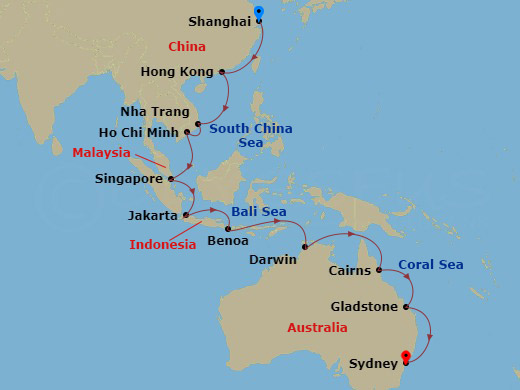 ---
Policies
Offer is subject to availability. Prices are Inclusive of port & Handling taxes.
Offer is subject to change and may be withdrawn at any time without notice. Gratuities are charged daily AUD $20 per person per day for Insides to Balcony. For Suites gratuities are AUS $25 per person onboard. Gratuities are not included in the price, however they are mandatory and can be prepaid at time of booking.
Further conditions may apply.
---
CCBot/2.0 (https://commoncrawl.org/faq/)
52.91.39.106
asia-cruiseco-collections
listing-dre4743
cruise-deals
cruise-passenger
Cruiseco
1800 550 320