Change or refine your search
All prices are indicative until confirmed at booking confirmation
Baltic Palaces & Panoramas - 15 Night Fly, Stay, Cruise PACKAGE (CRY8420)
Baltic Palaces & Panoramas - 15 Night Fly, Stay, Cruise PACKAGE - Copenhagen to Stockholm (CRY8420)
Tour Departure: Jun 30, 2020
---
| | |
| --- | --- |
| | Cruise |
| | |
| --- | --- |
| | Flights |
| | |
| --- | --- |
| | Stay |
| | |
| --- | --- |
| | Transfers |
---
---
Inclusions:
15 Night Package Includes:
Economy Class airfare from Australia to Copenhagen, returning from Stockholm
2 night pre cruise hotel stay at the 71 Nyhavn Hotel Copenhagen, including breakfast
11 night cruise from Copenhagen to Stockholm aboard Crystal Symphony
2 night post cruise hotel stay at the Nobis Hotel Stockholm, including breakfast
Transfers between airport, hotel and port throughout
Port charges, government fees, air taxes and onboard gratuities
---
Itinerary
Day 1 - 2:
Singapore Airlines Economy class to Europe EX SYD MEL BNE ADL PER
Depart from either Sydney Melbourne Brisbane Adelaide Perth
To: Europe London Amsterdam Copenhagen Stockholm Edinburgh Dublin Paris Barcelona
Nice Venice Milan Rome Athens Budapest Dusseldorf Hamburg Zurich Vienna
SPECIAL FARE
SALES VALIDITY: until further notice
FARE TYPE: Economy Booking Class Q/S
CHANGES/CANCELLATIONS/FEES: For further information refer to the Terms & Conditions located on our website.
CODE: SQEURFY2021ZRT1Y1
Day 2:
Private transfer Airport to Hotel
Day 2 - 4:
71 Nyhavn Hotel
With a fantastic atmosphere and unique location at the last frontier in Nyhavn Canal, 71 Nyhavn Hotel is at home in two newly renovated warehouse buildings from the early 1800s. From the southern side of the building, unparalleled views to the many beautiful museum ships and the clucking water await you, offering one of the best views the city has to offer.The hotel encompasses 130 rooms decorated with humble respect for the history of the buildings with a repartition of 66 refurbished rooms in "The Yellow Warehouse" and 64 rooms in "The Red Warehouse", which have also received an extensive upgrade.
Wed 1 Jul 2020
3:00 PM to 12:00 PM
Day 4:
Private transfer Hotel to Port
Day 4:
Copenhagen (København), DK
Day 5:
Copenhagen (København), DK
Sat 4 Jul 2020
Depart 6:00 PM
Day 6:
Berlin/Warnemunde, DE
Sun 5 Jul 2020
7:00 AM to 9:00 PM
Day 7:
Cruising the Baltic Sea
Day 7:
Gdynia, PL
Mon 6 Jul 2020
1:00 PM to 9:00 PM
Day 8:
Cruising the Baltic Sea
Day 9:
Helsinki (Helsingfors), FI
Wed 8 Jul 2020
8:00 AM to 6:00 PM
Day 10:
St. Petersburg, RU
Thu 9 Jul 2020
Arrive 7:00 AM
Day 11:
St. Petersburg, RU
Day 12:
St. Petersburg, RU
Sat 11 Jul 2020
Depart 7:00 PM
Day 13:
Tallinn, EE
Sun 12 Jul 2020
8:00 AM to 6:00 PM
Day 14:
Stockholm, SE
Mon 13 Jul 2020
Arrive 8:00 AM
Day 15:
Private transfer from port to hotel
Day 15 - 17:
Nobis Hotel Stockholm
With a prime spot on the historic Norrmalmstog Square and access to Stockholm's best shops and restaurants, Nobis is a hot spot in the city centre. With furnishings of natural material such as wool, wood, stone, leather, glass and fine Egyptian cotton linen and beddings, the rooms at Nobis Hotel serve as an exclusive and private oasis in the city centre of Stockholm.
Tue 14 Jul 2020
2:00 PM to 11:30 AM
Day 17:
Private transfer from hotel to airport
Ports of Call may vary by departure date and subject to weather and other conditions.
---
---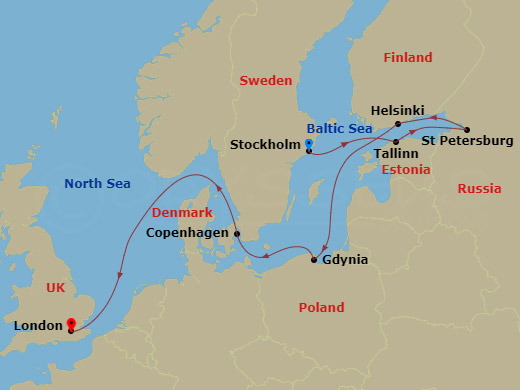 ---